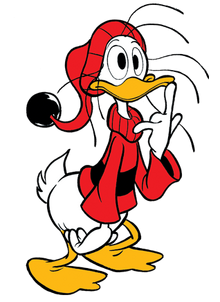 Fethry is a secondary character in the Duck universe and a supporting character in DISNEY ALL HEROES.
In DISNEY ALL HEROES
Edit
In DISNEY ALL HEROES The Videogame he is a NPC. He is first seen running around the city from the Beagles and hits into Mini and they start a conversation:
Fethry: Run! Everyone RUN!
Mini: Control yourself!
Fethry: Okkkkkkkkkkkkkkkkkkk!
Mini: We're looking for the Black Pete. Have you seen him?
Fethry: F'course!
Then he gives you the mission "Capturing Pete". At the end he is seen celebrating along with all the other NPCs.
Missions
Edit
Capturing Peet